Blog Entries:
Las Nubes
Its football season in South Texas, and that means every Friday night, the community turns out to support their local kids on the playing field. I too got to be a part of the Texas High School Football phenomenon as I attended Pharr – San Juan – Alamo High (PSJA—Go Bears!) back in the early to mid-90s. This tri-city school district was one that was heavily intertwined with a lot of my family's history. All my family, both sides, attended PSJA. A good number of them still work for the school district today. Some played football, some played baseball, some were drill team members, and a few were cheerleaders. My abuelito, Marcos Espinoza, was a much loved, decorated custodian. Even at his funeral, many school officials came by to pay respects to the man and shared hilarious stories, even if it was over 30 years later! To close out the blog, I wanted to post an amazing video clip that was shared with me on Facebook.  I was moved to tears as I heard it as it reminded me of where I came from. It shows a talented young accordion player, playing with his high school band (in this case La Feria High School Lions of La Feria, Tex). What I found amazing was that the band adopted an accordion into its repertoire, simultaneously exposing the kids and helping keep alive the Tejano/Conjunto/Norteño tradition in South Texas. The song being played is "Las Nubes," a longtime farmworker anthem, inspired by Cesar Chavez and the United Farm Workers Union movement. I also include a clip by the original artist Little Joe (of Little Joe y La Familia fame, written by Wally Armendariz), who gives a little information about the song. Once again, the Valley demonstrates its uniqueness when it comes to Texas High School Football; a very American sport, but done our way, with a little hint of Tejano.   
For additional history of Tejano/Conjunto/ Norteño music of South Texas, be sure to check out the wonderful, informative blog Pharr From Heaven, by a former PSJA North alum Eduardo Martinez. 
https://www.facebook.com/laferiaband2016/videos/803536619704965/
Alex Rivera, Director of Sleep Dealer
Alex Rivera's take on a nightmare/dream world conjured in his award-winning film Sleep Dealer, as published in this OC Weekly feature:
"So, in the late 1990s, I was looking at two big phenomenons: the Internet being born, the creation of a global village and a border-less space. Consequently, a few miles south of Orange County, a border wall was going up. We would see in the digital space a world with no borders but in reality borders were becoming more fixed and militarized. The contradiction produced a nightmare/dream world."
Spatial Justice: Rasquachification, Race and the City
Thanks again Alexandro José Gradilla for this link, "Spatial Justice: Rasquachification, Race, and the City by Robert Bedoya." Some thoughts:
Intervening in discussions about gentrification and placemaking, cultural activist Roberto Bedoya champions the creative resilience found in communities of color—and exemplified by the Chicano practice of Rasquachification—to suggest "placekeeping" as a strategy for advancing racial justice goals.
And this note on "the Rasquache spatial imaginary":
The Rasquache spatial imaginary is a composition, a resourceful admixture, a mash-up imagination that through objects and places says, I'm here—whether that be New Orleans, East L.A., the Bronx or South Tucson—and I'm part of the many and I walk down these streets with a Rasquache passport that says I belong.
Nuestra Señora de Guadalupe Barbie
Found this Latino Rebels nugget of awesome making the rounds on Facebook today, "Argentine Artists Cause Stir with Virgen de Guadalupe Barbie, Jesus Christ Ken on a Crucifix and So Many Others."
We are going to take a guess and say that the Argentine artists Pool & Marianela will be getting new fans and new haters after their latest pieces of art have caused controversy in Latin America and will be pissing off toy maker Mattel as well.
Mars Ahead?
Big news from back home!
Last month, PayPal Founder Elon Musk chose Brownsville, Tex. to be the home to the world's first commercial rocket launch complex, built by SpaceX. As a 22 September N&O headline announced: "SpaceX Breaks Ground on Texas Rocket Launch Site."
Not Everyone's Boyhood
Thank you Alexandro Jose Gradilla for this link from The Atlantic.
Richard Linklater may have set out to tell one, small story; not the entire story of America. But as long as society continues to present lives like Mason's as what's normal, the childhood of people of color, like Michael Brown, will be seen as variant—as other. To be centered is not merely normalizing—it's elevating. And to be othered is not only to be seen always as potentially dangerous, but also to feel always in danger.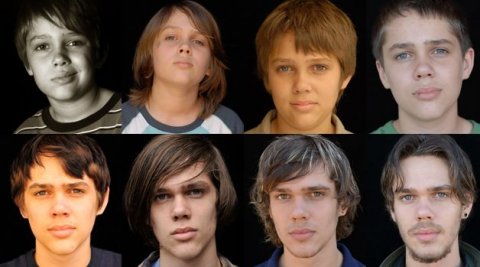 Meeting Artists along the US-Mexico Border
Arts website Hyperallergic has posted an interview with photographer Stefan Falke as he documented his visits with artists from both sides of the US- Mexico border. The resulting book was published and the photographs will be on display at Photoviille in New York. I was glad to see some familiar faces in the post. Read Falke's interview here.
Habla Texas
Music in the Rio Grande Valley is a big deal. It provides the background music to your long and humid days in the Valley as well as align you with your preferred social group. I asked my students yesterday what images come to mind when they hear the word "Texas." "Cowboy hats and boots," said one student enthusiastically. Someone else in the class mentioned "country music." One student said, "I drove through it once and it was long and hot, so miserable?" I thought to myself "ah yes, the usual." I wondered what they thought of me since I most definitely don't wear cowboy hats and boots, or listen to country music. I did agree that the weather was hot and miserable though, much like here in south Florida.
The soundtrack to our drawing class is sprinkled with music from the likes of The Cure and Depeche Mode, British New Wave bands that began in the late 70s that continue to make music today, so I knew that perhaps at least I wasn't fitting into their perceptions of a stereotypical Texan. I found this great series on HBO Latino a few years ago called Habla Texas and wanted to share a clip from it. The person being interviewed is Brian Ramos, a musician from El Paso, Tex. (El Chuco!), where he highlights his musical tastes growing up in a household of rock music. I laughed uncontrollably when I first saw this clip because I felt he was describing my household! My mother is a diehard Beatles fan and also has a John Lennon fixation as well. My sister and I were raised in a rock household and were given a daily dose of MTV, so we definitely were exposed to all different genres. Perhaps my musical tastes aren't exactly like Ramos', but I do appreciate how he was able to beautifully express the nature of the border existence, and the influences that somehow seep in from everywhere/nowhere to make us the people we are. 
Early Works of The Three Amigos
Special thanks to William Nericcio for the link to this piece.
I love reading biographies and watching documentaries. It's especially great to find the stories of the humble beginnings of the people I admire. In this piece, the very early student short films of the critically acclaimed Mexican directors Alfonso Cuarón, Guillermo del Toro, and Alejandro González Iñárritu (AKA "The Three Amigos") are presented.  
The first one I ever saw was González Iñárritu's Amores Perros. A film, my art professor had told me, was "non-linear, like Pulp Fiction, except way better." I was lucky enough to find the DVD at a local video store. I was blown away by the rawness of the film, but especially loved how such powerful storytelling was tied together. In 2006, while in graduate school, the film Babel was released. That year, González Iñárritu and (amazing) writer Guillermo Arriaga crafted a masterpiece that received numerous accolades, and I was positive it would win Best Picture at the Academy Awards the following year. Unfortunately, it did not. 
Del Toro's work came to me through the sequel to the vampire comic adaptation Blade, which I thought was rather dull (no pun intended). Not long after, I caught a late night showing of El Espinazo del Diablo (Devil's Backbone) on cable and I was astonished to see that it was by the same director. The next film I saw of his was the film adaptation of the comic book, Hellboy. In researching Del Toro, I found that he not only loved comic books, but was into Weird Fiction and Horror as well, something I am very much into. I was sold. I loved this guy. He went on to make the amazing Pan's Labyrinth (El Laberinto del Fauno) which was also nominated for some awards alongside Babel.
Cuarón caught my attention when he made the coming of age film Y Tu Mama También (And Your Mama Too) though I didn't follow up on his works as much until his adaptation of P.D. James' novel Children of Men was released. My partner and I have in common an interest in dystopian literature and film, and we can both agree that Children of Men is one of the best films in the genre. Like Pan's Labyrinth and Babel, it too was among the nominees that year at the Academy. In 2014, Cuarón received an Oscar for Best Director for the film Gravity.   
There are many reasons why I love these directors, but the themes of mortality, monsters/fantasy, nihilism, and political commentary are what I find most influential. While at University of Texas- Pan American, I studied the Pre/Post-Columbian Art and Architecture of Mexico under Richard Phillips. It was through those courses that I appreciated even more how these directors were contributing to the evolution of the art of the culture. I understood its lineage and what it looked like in its current incarnation. The piece below reveals that the directors had some awkward first steps as young film students, but with time, hard work, and imagination, they became the successful filmmakers they are today. 
If you have not seen any of these films by "gods like 'The Three Amigos' [who] were once flesh-and-blood human beings just like us," as the folks at Remezcla note, please do so immediately!
The Fault, Dear Raúl, Is Not in the Stars
The following link is a beautifully written piece about calling out the Latino media for the perpetuation of stereotypes in television and film. The writer, Susanne Ramirez De Arellano, responds to the HuffPost Live interview with El Gordo y La Flaca's Raúl de Molina on the subject. The analytic onus at hand:
how the notion of a real 'Latino media gap' and an over-representation of tired and stale stereotypes are a product of the very same programming de Molina actively promotes.
Also included is a link to an interview on Latino Rebels Radio with BuzzFeed's Alex Alvarez and NPR critic Juan Vidal who were also in the interview with de Molina. In their segment, they expand on generational difference, machismo, and the not just the "lack of presence (in media), but how that presence is portrayed." A politically inclined Miami coqui also joined in on the conversation. 
No Country For Little Kids
 Again, Jim Gilchrist is back on television, and as usual, spouting the same old thing. Thank you Pocho for posting this hilarious (and outrageous) video from the The Daily Show with Jon Stewart about the latest from the organization known as "The Minutemen," who are attempting to "mobilize a militia to stop the hordes of refugee children invading our country." 
How the Minutemen will stop the 'Latino-ization' of America (video)
Are You The Worst Latino?
NPR's Latino USA podcast recently highlighted a great piece by A.C. Valdez on Latino identity. In "You Are The Worst Latino," Valdez interviewed several Latino USA staff members from different places to hear their stories and to shed some light on how each one has dealt with the pressures and insecurities of feeling they did not belong to their culture.
I remember when I was young, my stepfather constantly tried to get me to like jalapeños. One day, he offered me 20$ to eat one. I bit it in disgust, felt the sting of capsaicin, and spit it out! Water did not help. He gave me 20$ for the effort, though. I didn't like jalapeños for a long time, but eventually I came around on my own. One day, an incorrect order at Whataburger led me to have grilled jalapeños in my burger. Tried it. Loved it. Never looked back. Today, I laugh and I tell my stepfather "I guess it had to be grilled in order for me to appreciate it." 
Back home in Texas, I have a young teenage brother who does not like spicy food. Instead of bribing (or pressuring) him into trying stuff, I know that he'll eventually make a decision on his own. He may or may not like it, but it will not change who he is.  I heard this clip and I thought of of him because I know his living situation, the other kids he goes to school with, are a younger generation. Perhaps they don't speak Spanish as much, or don't care for Tejano music, or have their abuelitos to talk to. They are who they are, y se acabó.   
I really enjoyed the piece and I hope you do too.   
Missing No More
Just found this call for submissions on the Facebook Community page "Cultivating Invisibility: Chipotle's Missing Mexicans."
For all the writers and artists who have something to say about Chipotle's severe lack of Latino and Latina writers in its "Cultivating Thought" campaign: the Cuento Cups: Because Our Stories Matter project is brilliant. I hope you take a moment to check it out and participate. I include the image of the cup (below), automatically resized to view on this blog. The downloadable file, in its correct size, is beneath the image––and the one you want to use to tell your cuento and create your cup. Suerte!
Throwback Thursday finds us celebrating the early days of the Great Burrito War of 2014 with this cup template created by artist J. Michael Walker, founding member of Team Cultivar. Use it and join the Museum of Ventura County (MVC) and author Michele Serros, who want your cups for the upcoming exhibit Cuento Cups: Because Our Stories Matter. Add your cuento to Walker''s template, follow the directions below, and see what happens!
Here's the call for submissions (pass the word!)––
Cuento Cups: Because Our Stories Matter
Exhibit Dates: 3 October–2 November 2014
Opening Reception: 3 October 2014, 6 PM
Where: Museum of Ventura County's satellite location:
The Tool Room Gallery @ Bell Arts Factory
432 North Ventura Ave.
Ventura, Calif.
The Cuento Cups are a response to Chipotle Mexican Grill's "Cultivating Thought" author series. In May of 2014, ten authors were chosen to pen original essays on Chipotle Mexican Grill's cups and take-out bags. Surprise! Not one writer selected was Mexican, Mexican-American, or Latina/o.
This exhibit is the brainchild of MVC curator Anna Bermudez and Latina author Michele Serros in response to the fact that a major franchise did not include Latino stories. The cups will be displayed at the Tool Room Gallery during the month of October and will periodically be featured on the Museum of Ventura County's website.
 
So, artists and writers, we challenge you to take a simple paper cup or create your own take-out cup and paint it, decorate it or keep it simple and write your compelling story on that cup in response to Chipotle's "Cultivating Thought" series.
Submissions must be received by 26 September 2014.
Please send submissions to:
Anna Bermudez, Curator
Museum of Ventura County
100 East Main Street
Ventura, CA 93001
Contact Anna Bermudez for more information, or call 805-653-0323, ext. 302.
chipotle cup
Point of Access
I often am asked questions about what my source material is. I usually say it comes from imagery that I've clipped and collected, or a news story, or my response to a situation I might have come across. But what started it all, and what I still make references to, is "Home" or "Place" (and displacement). There are four counties at the southernmost tip of Texas that make up the Rio Grande Valley. The region itself has as many names which can be applied in different conversations: El Valle, The Magic Valley, 956, etc. 
The two 2013 BuzzFeed posts below were passed around again recently on Facebook and I just had to repost it here. In it, you'll find a lot of the quirks that make the Rio Grande Valley unique. You'll see images of raspas (snow cones), high school football, narco culture, food, etc. I make references to some of these things because they are a major part of the identity of the place. I had really great professors and mentors in my undergraduate days that helped me figure out what I needed to do to refine my work––to explore the borderlands and my ideas of home.
As an arts educator now, I find myself helping students in South Florida explore their place and identity. These days, the work I do  is very different from what it was back then, but I still make references to "Place." I know that a few of these things you'll see are not unique to the Valley, but I felt that by looking at them, you'll have some point of access into my work. Click and have a laugh, for there is a lot of valluco attitude in these posts. 
25 Signs that you grew up in the Rio Grande Valley (subtitle: "Not quite Texas, but not quite Mexico")
20 Things you should know about the Rio Grande Valley (subtitle: Because I'm tired of explaining where I'm from)
Dear reader, let's have some dialogue! I'd like to invite YOU, to submit some questions for this blog. (A huge thank you to those who've emailed already!). I will go through and answer as many of these as I can, perhaps even have an entire post of answers to your queries. Please feel free to email anything relevant to the theme/posts of this blog, and to the Program in Latino/a Studies in the Global South. I look forward to hearing from you.       
Unmexican
So let me just jump into this. I usually like to visit the newspaper websites of the towns I've lived in, which range from The Monitor in South Texas, The News & Observer in N.C., The Tennessean in Nashville, and The Herald-Leader in Lexington, Ky. I do this because I like to stay in touch with things happening there and often something interesting comes up. Tonight, I found out about a small film released in the Rio Grande Valley (or the RGV): Unmexican by director Mark Hernandez. The film, as described by The Monitor, is about "dealing specifically with the burdens of carrying a prescribed culture." Hernandez states that the film is based on his personal experiences growing up in the RGV, along the US-Mexico border, and all the uncomfortable situations he'd encountered, just because he felt he hadn't embraced his culture. As a Valluco (someone from the RGV), I can identify with this, as well as some friends and family––someone just decided to make a film about it.  
Since childhood, I too felt the sting of "un/belonging" (thank you, Claudia Milian). While South Texas is steeped in Mexican culture, I had struggled as a kid to fit in. Even from the pronunciation of my name, Izel (EYE-zel), I was singled out for not speaking it correctly––"¡como un Mexicano!" … I still get that to this day. My tastes in music, film, and art were not the ones others shared, so naturally, I was a "weirdo" (their word, not mine). It didn't help that I had crooked teeth and was somewhat socially awkward. In high school, I played football (it's what you do in Texas, I'll expand on this in another post), which did help me become part of some kind of social group, but even then, still didn't feel like I really belonged. It wasn't until I was older that I came to the conclusion that I am what I am, they can take it or leave it. In college, I proudly waved my banner and other like minded people started to come around.  I've made many friends with the other weirdos of South Texas and abroad.  
I applaud Hernandez for stepping up and sharing his experience. I believe it can get more of these South Texas kids to think about their place in the world. Being a product of the borderlands is a special thing, growing up in between two distinct countries and never really belonging to either. Perhaps this is Hernandez proudly waving his banner.
Read The Monitor's feature article: "'Unmexican': Donna Resident Debuts First Feature Film on Hispanic Culture, Personal Identity."
HELLO!
Thank you for stopping by! First off, I'd like to thank Duke's Program in Latino/a Studies in the Global South for the opportunity! It is a huge honor for me to be inaugurating Arrob@ as the Virtual Resident Blogger. I hope you stop by regularly as I will be sharing relevant news, videos, personal stories, and photography throughout September (wow, it's September already?!). Please feel free to contact me if you would like to engage in conversation.
A little about me: I am a second generation Chicano/Tejano/Mexican-American/Fronterizo artist and Arts Educator from the Rio Grande Valley of South Texas. I grew up in the town of Alamo, Tex.—a small, but growing community a few minutes north of the U.S.-Mexico border. Early exposure to the arts led me to pursue my BFA at the University of Texas-Pan American (Now UT-RGV) in 2004 and received my MFA from the University of North Carolina at Chapel Hill in 2007. 
As a mixed media artist, I consider the work I do to be mindscapes that explore Americana, identity, popular culture, and the birth of new spaces/borderlands. I examine the negotiation of these spaces in relation to personal histories, often with a sense of humor. Wherever I may be, I'm continually searching for spaces of cultural hybridity within communities; the sites of contact where new borderlands exist. These sites are familiar areas of community and commonality for immigrants and exiles alike. Spaces such as these provide a wealth of visual information for my work and allow me, at times, to have a home away from home. 
Currently, I teach Art Foundation courses at Florida Atlantic University in Boca Raton, Fla. Do please stop by my website if you'd like to see more artwork. See you soon and thank you again!